zombie as appropriated likeness #selfie
Two stories today of "zombie" appropriated likenesses.
First at NerdReactor: "EA confirms Bruce Lee as the UFC mystery fighter" by John 'Spartan' Nguyen:
zombie Bruce Lee
This is in reference to a new video game, in which
Bruce Lee Enterprises provided EA Sports with a lot of material to help them create a very authentic Bruce Lee.
The uncanny edges closer to a truly simulated real. But, with Bruce Lee, his simulation has carried his legacy longer than his living material body did; Lee died in 1973, not yet age 33. The manipulation of his dead symbol in film footage has been the only representation most gamers have ever known. He has become a symbol, and now we can manipulate him more interactively.
Bruce Lee was born in Hong Kong, so there should be no confusion with the other UFC fighter, The Korean Zombie, who has been part of his own symbol meaning controversy about historical meaning versus pop culture in regard to the Rising Sun historical flag for fighter costumes.
Meanwhile, UpRoxx: "The White House Is Banning Obama Selfies. Thanks, David Ortiz & Samsung!" by Dan Seitz calling it "Selfieghazi":
the timeline of events was this:
Samsung hired David Ortiz to be their "MLB social media insider" and gave him a Samsung Note 3
Ortiz went to the White House the next day, and took a selfie with Obama.
Samsung retweeted it.
Things got stupid.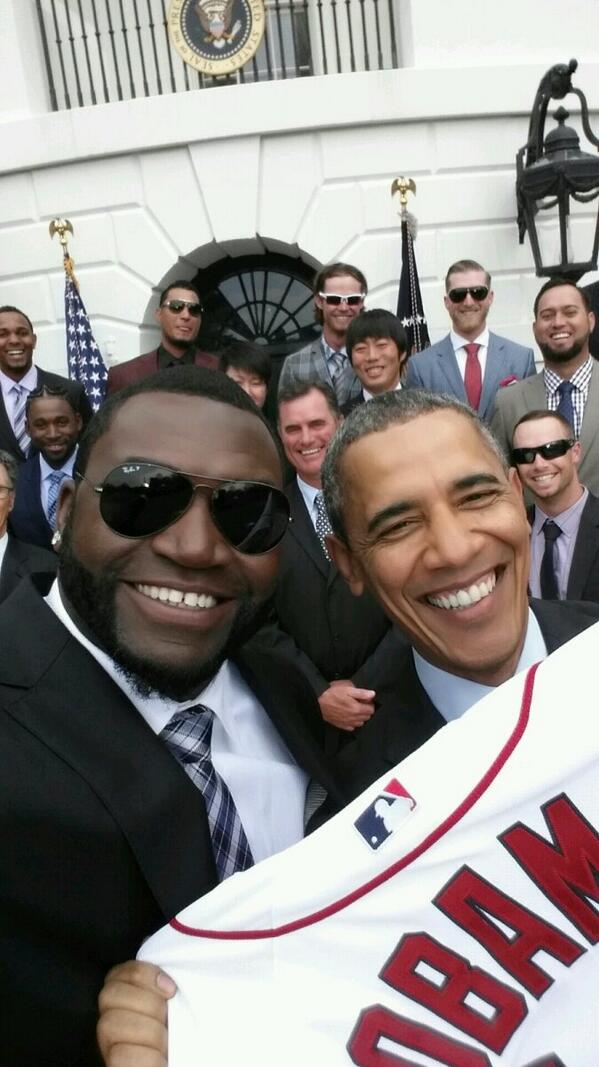 Seitz notes that this incident is all enhancing Samsung sales (it's the economy, stupid!) and that this is a somewhat fake controversy over a picture that
was going to be retweeted by every Sawx zombie on the planet in the first place
That's, not "Saw 10", that's "Sawx" as in zombie Boston Red Sox. Recall also other zombie Samsung commercials.
Also by the way, it's national distracted driving awareness month: don't be a zombie, put down that cell phone while driving and maybe put it down even when your not driving. Could we should ban phones in public the way we ban cigarettes. Is the general lack of human connectedness maybe even worse for public health than smoke? So ya know maybe, baseball players and presidents, models for youth, maybe they don't need to take selfies when surrounded by photographers?
Selfies are of course very popular, but they maybe are also a bit of conspiracy, first to buy phones and cell plans, but then also to get pictures of your face. If they don't have clear face pictures, how are they going to get a good facial recognition pattern ID? or appropriate your likeness? Recall "Act like Zombie to avoid camera facial recognition software" but not if acting like a zombie means taking lots of selfies.
Also, I'd imagine the Secret Service must really hate these already; 'Yeah, Mr. President, let me just reach into my pocket, pull out this small black piece of advanced technology that was given to me by a foreign corporation, and excitedly hold it up to our heads and shoot your face, OK?, great, say cheese; zombie CHEESE!
Finally, "Selfieghazi"?! Really? So we've moved on from "-gate" suffix (from Watergate into every future political scandal – including GhaziGate) but now, new scandals can be "-ghazi" suffix? Is that because they want to minimize the terrorist attack scandal that could impact Hillary's chances or because they don't want us to forget that scandal? Or both? Or neither? Does the sound of "ghazi" imply Middle East and Al Qaeda? Is it Terrorist chic?
Also if there is to be a real Selfieghazi, that might have been last December when President Obama posed for a selfie at Nelson Mandela's funeral with British Prime Minister David Cameron and Danish Prime Minister Helle Thorning-Schmidt; wife, Michelle appeared 'not impressed'. See Guardian: "Barack Obama and David Cameron pose for selfie with Danish PM"

"
In which Judith Soal wrote:
No matter how famous you are, it appears, few can resist the appeal of the selfie.
Which may also be related to an appeal in appropriating symbols;
"Steal this zombie art"