"Zombies Are Coming!" on Jeopardy!
Monday, June 10th, the television game show "Jeopardy" included a category "Zombies Are Coming!".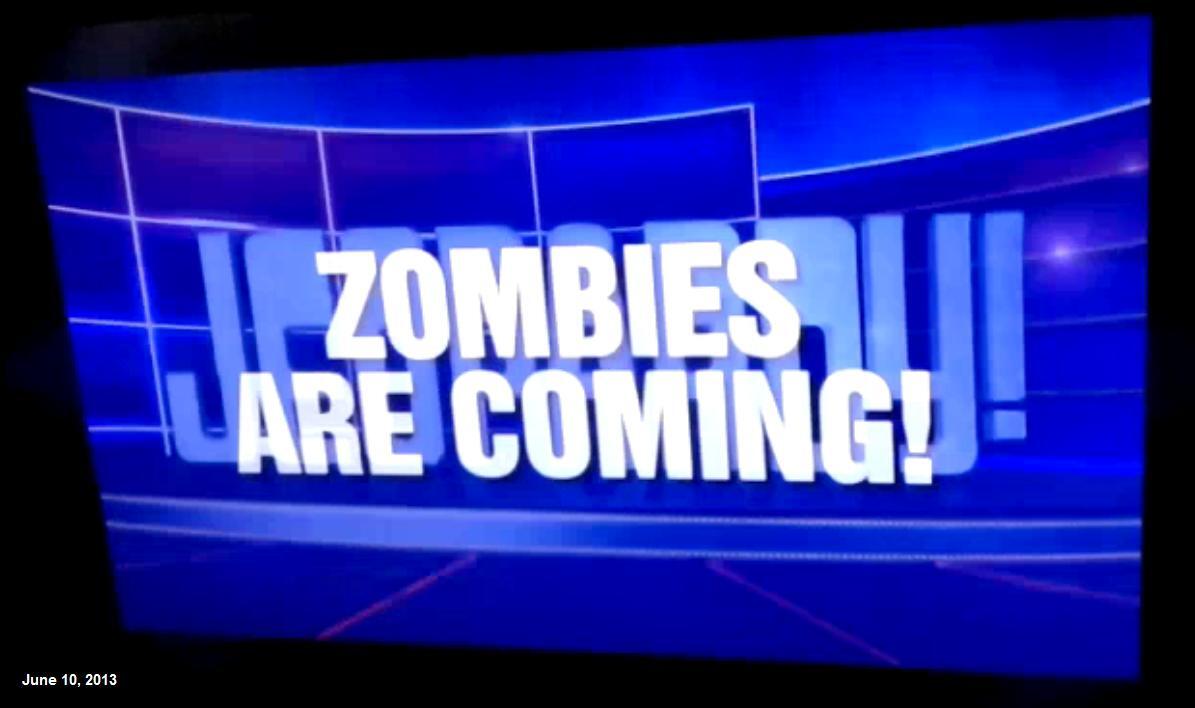 The contestants saved it for the last column of their first round. The round also included a category about satire from "The Onion" and another called "Text Me" about internet acronyms. Roman leader, Caligula was mentioned, (Trebek calls him a "fun loving guy") in the $1000 question for "Better Follow Me" category.
Then the Zombies category including clues about Nazi zombies, video games, AMC, Rob Zombie, Bela Lugosi, Pride and Prejudice, brains, and "R" from "Warm Bodies" (and contestant "Jason" does look something like the actor who plays "R", when he was in "X-Men: First Class").
"Jeopardy!" is itself a sort of zombie classic been on the air for so many years. And it's always so much fun but with the internet, it's amazing that it's still on TV. It's a testament to the power of nostalgia and the quality of the subtle advertising. Like when the game ends and the two contestants who lose have their name changed to "Aleve". The advertisements are embedded in the show.
And zombies were in the traditional advertising spots too — in local commercials aired during the first break a commercial for Monster Jam coming to NJ this Saturday and featuring trucks named: "Zombie", "El Diablo", "Scooby Doo", "Grave Digger"… And before that was a NY Lottery commercial with an assembly line of baby doll parts.
Perhaps "monster trucks" and "baby doll parts" are both types of Jeopardy-trivia zombie (I think I know some powerhouse trivia minds and also some baby doll assembler minds). And speaking of the types of people who like puzzles, recall previously Zombies in NYTimes Crossword Puzzles – but now some Monster Truck is going to run me down for equating quiz shows and crosswords…
Maybe I'm just cynical but I just assume that game shows (and crosswords) get paid advertising to embed words into the clues; maybe not.