Scarlett Johansson's Zombie Monkeys vs Zombie Osama bin Laden
Brain science technologies – pseudo-futuristic neuroscience potential is fueling at least part of the current zombie craze. If machines can control biology, then what are humans?
Today Gawker is reporting that scientists are able to program monkeys – these monkey robots can be moved through signals to their brain for potential use in reconstructive surgery or as zombie armies.
Look out Russia, you may have Putin's zombie gun but we have robot monkeys!

Meanwhile an artist is using Scarlett Johansson's face to advocate for zombie rights. The argument seems to be mostly about how zombies are portrayed in movies:
the "art" seen here has been designed to encourage the entertainment industry to take a more respectful approach to the zombie genre.

"Zombies represent our ancestors, so where is the respect, love and humanity for zombies that we have for family?" says Edwards in a statement. "I challenge Hollywood to make a film that does for zombies what movies like The Day the Earth Stood Still, Close Encounters and E.T. did for aliens."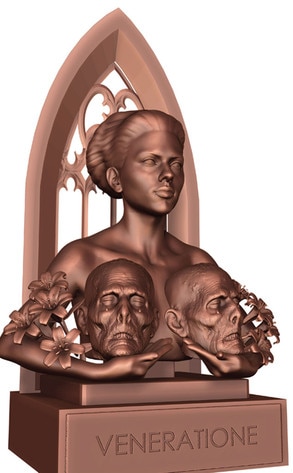 Though this is more of an attempt to humanize zombies than to actually grant them legal rights, the idea of "zombie rights" is directly on point for this ZombieLaw blog. It is about protecting those people most unable to protect themselves. Which is all of us (at least sometimes).
And finally, the movie Osombie and other zombie comedies - Now that Osama Bin Laden is dead, he can come back to life as a zombie to be killed over and over again for our amusement.
In a year that will bring us the lunar Nazis of Iron Sky and the presidential bloodbath Abraham Lincoln: Vampire Hunter, it comes as little surprise that Osama bin Laden is set to rise from the grave in the horror-comedy Osombie. The trailer, which pits Nato forces against the undead Al Qaeda leader and his flesh-eating horde, became an instant hit when it debuted online last month.
A little like the Tupac Hologram. Which is also in keeping with my argument that Darth Vader is a cybernetic zombie - and so maybe Obi Wan is perhaps also a zombie when he returns as a hologram image. In fact maybe being strong in the force is just being a strong ideological symbol. Wait no, that's the matrix. But in all of these comic book genre Joseph Campbell mythologies, there are strong dualisms. Whereas in the real world, new technologies are constantly blurring and blending and destroying these dualisms.
What is free will if computers can move a monkey's hands, what is a zombie movie if the zombies are humanized, and how do you kill a dead terrorist?
I think the answer to all those questions is comedy and laughter.